Portfolio: Heidi Wetzel's Woven Sculptures & Baskets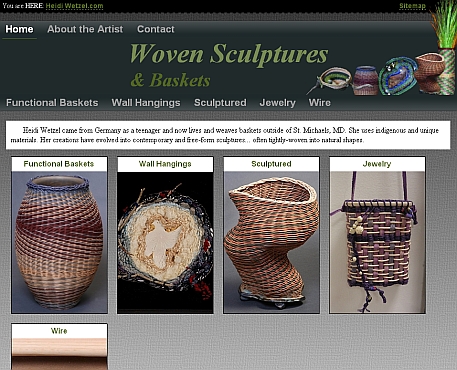 Client Testimonial:
"Tatiana created my website more than 2 years ago and has been very patient and supportive with my limited knowledge of the technical aspects. I now have a website that I am very happy with, and she is very quick in adding or changing any updates I send her. She has also been willing to sit down with me, very patiently, and work out the details. She has been flexible with my unpredictable schedule in getting information to her, and uses her creativity in making positive changes."
Heidi Wetzel, Heidi Wetzel's Woven Basket Creations
Site Information:
Design Completed: 4/2009;
Created With: HTML, CSS, and PHP.
The original design for this site was completed in January, 2008. For over a year, I waited for content, including a logo, to be provided. By the time the content was given to me in late March of 2009, I had learned many new CSS techniques, better image editing, and basic PHP. Below is the image of the original design created in early 2008: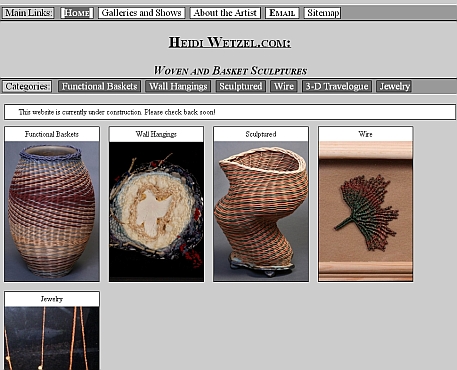 By comparing the two images, you can get an idea of what I've learned in the past year. Not only have I gained a better understanding of how unordered lists function in CSS, I've also learned how to create gradient background images and clean up photographs with a program called GIMP. This, as well as the addition of the PHP-powered "You are HERE" top bar, has resulted in a site that has more texture, tone, and easier navigation than the original design.